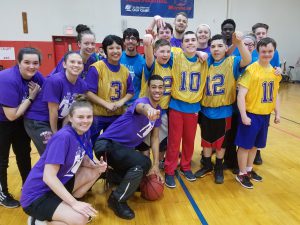 Help Mitchell College win the
NCAA March 2017 Special Olympics Spotlight Poll
by voting for our very successful and fun event this winter! Click through and choose Mariners Host Special Olympics Basketball Jamboree. Voting is open through March 25!
The Special Olympics Basketball Jamboree, which took place on January 29 at the Yarnall Athletic Center, included seven local teams from the towns of Groton, Griswold and Saybrook. Nearly 60 SOCT athletes took part in the fun, with ages ranging from 13 to adult.Members of the Mitchell Student-Athlete Advisory Committee (SAAC) created the event as an interactive way for Special Olympics athletes to showcase their abilities while joining forces with student-athletes from Mitchell College. Over 100 student-athletes from Mitchell's 12 varsity programs participated in the event.
The jamboree, which consisted of 10-minute, 5-on-5 games played in round robin format, highlighted the competitive spirit of the athletes. The seven Special Olympics teams, along with one team of Mitchell student-athletes, competed in three games each. Each Special Olympics team also had five Mitchell "recruits" for the evening who played and competed alongside them.