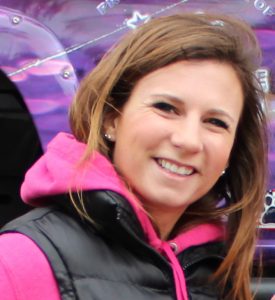 In memory of Stephanie Turowski '15, Mitchell alumna and intern, the College will be holding a service event to beautify Mitchell Woods on Saturday, April 1 from 11 am – 2 pm on the Weller Center patio. We will be building bird houses, assembling feeders and nest-building kits, removing knotweed from the trails, raking leaves and cleaning the park—in honor of the first service event Stephanie coordinated on campus as a VISTA intern. Brunch will be available on the patio for student meals or for guests to purchase. Students, faculty, staff, alumni and community members are invited to join us.
Additionally, Stephanie's family is setting up a scholarship in her name at Mitchell College. Through an initiative by Waterford Public Schools, the sale of a T-shirt, specially designed in Stephanie's honor, will support the scholarship. T-shirts may be ordered any time before May 12. Click here for the order form.
For those planning to participate in the service event who would like to have a T-shirt by April 1, please bring the order form and money no later than Friday, March 17, to Amanda Ljubicic, Director of Integrative Career Development, on the second floor of the Duques Center. Please email Amanda at ljubicic_a@mitchell.edu with any questions.