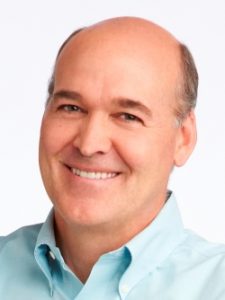 Free and Open to the Public
NBC Sports and NBCSN Executive Producer Sam Flood will share how careers in sports television are created at Mitchell College's Weller Center on March 16 at 7pm. With stories from across Sunday Night Football, the NHL, NASCAR and 14 Olympic Games, Flood will discuss his experience building a passion into a profession where he has garnered recognition as a 26-time Emmy Award winner and three-time Eclipse Award winner. Flood, and his wife, Jane, are Trustees of Mitchell College.
As executive producer, he oversees production for NBC Sports and NBCSN's coverage of the NHL, Premier League, NASCAR, IndyCar, Formula One, horse racing, boxing, Tour de France, and French Open, among others. Flood is the producer for the critically-acclaimed NFL studio show Football Night in America, the most-watched studio show in sports. A former college hockey captain, Flood is regarded as one of hockey's most influential figures and is credited for creating the "Inside the Glass" analyst position and the successful Wednesday Night Rivalry franchise.
One of the many Olympic researchers who moved on to successful roles in the world of sports and entertainment, Flood joined NBC Sports in 1986 as an Olympic researcher for the 1988 Summer Olympics in Seoul, Korea, for which he won a writing Emmy. Flood produced daytime and Track & Field coverage at the 2016 Rio Olympic Games, and at Salt Lake in 2002 and Torino in 2006 produced coverage of the Closing Ceremonies, both just days after producing the network's coverage of the Daytona 500.
Flood produced six years of NASCAR coverage for the NBC/Turner joint venture, winning the Emmy for Best Live Series in 2006. He also won an Emmy in 1999 for live event turnaround for the 1999 World Track and Field Championship in Seville, Spain.
In 2016, Sporting News named Flood No. 39 in its list of the top 50 most influential people in sports. That same year, USA Today named Flood No. 15 on its list of the most important people in hockey. Flood graduated from Williams College in 1983, where he earned a bachelor's degree in history.