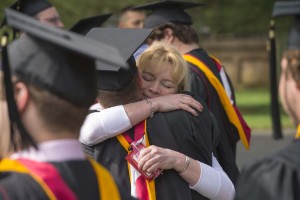 On Saturday, May 14, business person and community leader, Juanita T. James will give the Commencement Address at the Mitchell College 2016 exercises to be held at 10:00 a.m. on the College Green. She will share the roots of her deep commitment to community and dedication to creating opportunities for young people in her address.
Ms. James is President and CEO of Fairfield County's Community Foundation. Formerly, she was Chief Marketing & Communications Officer for Pitney Bowes Inc. Prior to Pitney Bowes, Juanita built a progressive 20-year career in the media and entertainment industry with Time Warner, Inc. and Bertelsmann, Inc. Ms. James is currently a Director of the Asbury Automotive Group, one of the nation's largest automobile retailers, and previously was a Director of the Rouse Company. She is also a member of the Board of Directors for Rockefeller Philanthropy Advisors, CF Leads, and the Connecticut Council for Philanthropy.  In her community leadership role, she is a Corporator for First County Bank, and a Trustee of Lesley University in Cambridge, MA, where she chairs the Academic Affairs Committee, as well as a Trustee Emerita of Princeton University.
Ms. James holds a Master's Degree in Business Policy from Columbia University's Graduate School of Business Program where she received the Distinguished Service Award.  She earned her Bachelor's Degree in Romance Languages from Princeton University.
Zachary D. Rocheleau has been selected to give the student address. From Westminster, MA, he will be receiving a Bachelor of Science in Law & Justice Policy Studies.
The ceremony will include the presentation of the Distinguished Alumni Award to George K. Wezner, M.S., and Distinguished Service Awards to C. Douglas Yarnall, M.S., and Mitchell College Trustee Gayle Bentsen. In addition, the recipients of the Board of Trustees Awards for Academic Achievement and the Faculty Awards for Academic Achievement will be announced during the ceremony.
164 graduating seniors will be receiving Bachelor of Arts, Bachelor of Science, Associate in Arts, and Associate in Science degrees.
Commencement will be held on the College Green and approximately 1200 are expected to attend. Tent seating is available for ticket-holders. Lawn seating will be open to the public. For more information about Commencement or Mitchell College, visit mitchell.edu.